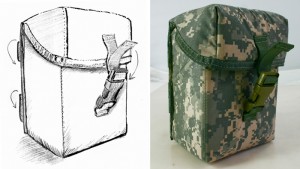 From Concept to Production
From your idea to a final product, Iron Duck can manage of all of your custom sewn product needs as well as rotational molding capabilities.
Unparalleled Manufacturing Capabilities
Whether you need 100 or 100,000 pieces, our scalable production process can deliver your order when you need it with the quality that you and your customers expect.
Rapid Prototyping
We use a system of techniques to quickly fabricate a scale model of your custom product.
Industries:  Electronics • Aerospace • Military • Automotive • Medical Devices
Please contact Iron Duck if you have a need for a custom designed product by calling 413.377.0030.
Specialties:
Prototyping – Custom Carry Cases – Rotational Molding – Immobilization Devices – Berry Amendment Certified Products – Domestic Manufacturing – ECO & First Article Quality Management – EMS Carry Cases – Specialty Fire Equipment